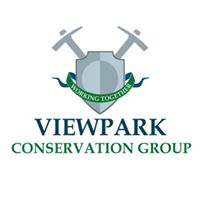 Get involved in Viewpark
The Viewpark Conservation Group needs the support of the community in a variety of differing projects. Some of these are listed in the menu to the left.
The Viewpark Conservation Group is looking for volunteers to help on the committee, and on the ground.
In the image above, young people gathered in the Glen to save the 'Bat Tree'. What will you do?
Our major task is to raise an additional £80,000 to fund the purchase of the estate.  We do not expect anyone to have a spare £80k in their pocket, but you may have contacts who can help.  Does your employer have a charity fund, either for grants of money or gifts in kind? Are you willing to write letters to organisations that may be able to help?
Viewpark Conservation Group will be forming sub-groups to help with the estate administration.  Could you contribute to Restoration and Health and Safety, Marketing and Publicity, Finance and Fundraising or a Youth Advisory Group?

Once the estate is in community ownership, we will be looking for help running activities in The Glen and to maintain the land.

This project is for the benefit of the community, and we need community support to make it work.  Please get in touch to discuss how you can share your skills and knowledge. You might also like to attend our fortnightly open meetings.
Organisations that have already indicated their support: (Source:Team4Nature)
• The Woodland Trust (Scotland).
• Plantlife UK.
• RSPB South and West Scotland.
• Former RSPB Conservation Director, and incredible voice for nature: Mark Avery.
• Project Dirt - connecting communities with conservation projects.
• Project Maya - scientists offering what we see as the best world solution that allows people and planet to exist in perfect harmony using permaculture. Consider making your treasured local green spaces "Maya Reserves" here
• Save our Greenbelt (@SaveOurGnBelt) a voice for those concerned about the future of Greenbelt.
• The Green Village - campaigning for a greener future.
To get involved, please contact Viewpark Conservation Group via our contact form.
 How you can help us buy 'Our Glen'.
Viewpark Conservation Group has recently been succesful in our application to the Scottish land fund for funding to buy the Douglas Support estate. As part of this purchase, we have to contribute 5% of the asking price, this has to be raised by donations and fundraising. Viewpark and surrounding areas have shown so much community spirit along the way of this process and we are now at one of our final hurdles.

Please donate what you can. 
Many thanks Viewpark Conservation Group